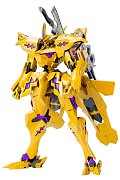 Muv-Luv Alternative Plastic Model Kit Takemikaduchi Type-00F Takamura Yui KI Ver.1.5 18 cm
EAN:

4934054042159

Numer seryjny:

KTOKP415R
Dostępność towaru
Chwilowo niedostępny
394,80 zł
From Muv Luv Alternative Total Eclipse, the spinoff series of the hit visual novel released by âge in 2006, TAKEMIKADUCHI TYPE-00F Takamura Yui KI is updated into Ver.1.5 to rejoin Kotobukiya\'s model kit series!
This golden yellow unit is a high-mobility model given to soldiers from fudai households. Compared to the Type-00A high-mobility model, Type-00F\'s main body and Jump Unit\'s maximum output has been increased by 15%. The model has been recreated in glossy color and the eyes and lights have been reproduced with clear plastic. As the other non-lightup details are pre-painted, TAKEMIKADUCHI TYPE-00F Takamura Yui KI can be completed just by assembling the model.

Changes for Ver. 1.5:
·The Type-87 Assault Cannon and Type-74 PB Blade have been fully redesigned.
·The assault cannon has two magazines that can be removed and assembled into a support assault cannon.
·The hip joints are redesigned with a multi-axis joint instead of the original ball joint, improving the durability and range of movement of the model. Furthermore, the addition of a roll joint in the thighs accommodates a wider range of expressive poses.
·The moveable armor on the back of the knees has been redesigned for smoother knee movement.
·The design and height of the ankle joints has been reconfigured to match the existing NON-scale model.
·The elbow joints have been redesigned to recreate rear-attack poses.
·The weapon mount is now articulated to accommodate rear-attack poses. Including the assault cannons, four weapons can be used to recreate rear-attack poses.
·A joint that can rotate up and down has been added between the chest and the waist, allowing for an even wider range of poses.