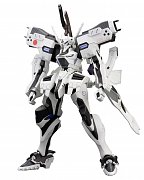 Muv-Luv Alternative Plastic Model Kit 1/144 Shiranui Second YuYa Bridges Ki 14 cm
EAN:

4934054042487

Numer seryjny:

KTOKP230
Dostępność towaru
Chwilowo niedostępny
192,70 zł
XFJ-01a Shiranui Second, the new blade of the Empire of Japan!

The Tactical Surface Fighter of Yuuya Bridges, the protagonist of Muv-Luv Alternative Total Eclipse, joins the battle in 1/144 scale!

With fewer parts, more poseability, and higher collectability than the NON scale version, the 1/144 scale series is perfect for model kit beginners.

In addition to the basic weapons such as the Type-74 PB Blade, Type-87 Assault Cannon, and Type-74 Mount Pylon, the Japanese flag design and XFJ-01a mark has been painted onto the face and shoulders to provide a more enjoyable experience to even those new to model kits.

This model has been made compatible with flying bases sold separately so you can recreate the dynamic battle scenes from the series.