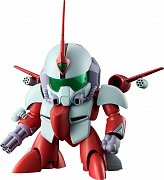 Mashin Hero Wataru Plastic Model Kit PLAMAX MS-17 Second Gun with Third Gun Parts 8 cm
EAN:

4545784012536

Numer seryjny:

MAFC01253
Dostępność towaru
183,30 zł
A new plastic model series of enemy Mashin units begins! The 1st in the series is Second Gun with parts to recreate Third Gun as well!

From the anime series \"Mashin Hero Wataru\" comes a PLAMAX plastic model of the boss of Soukaizan\'s first layer piloted by Cruising Tom, Second Gun! The plastic model can also be displayed in flight mode. Additionally, parts to recreate the Third Gun seen in the magical area between the sixth layer and seventh layer areas is included! Enjoy displaying the plastic model in either configuration!

· This model kit makes use of snap-fit connections for easy assembly. No glue required.
· Joints makes use of a poly-cap connection for articulation.
· Closed hands, open hands and weapon holding hands are included.
· Parts for recreating Third Gun are included. *The upper arm parts featured in the parts list photo are used for both Second Gun and Third Gun, so only one set is included.
· Foil stickers are used to represent the coloring of certain areas.