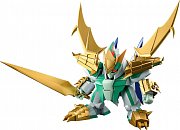 Mashin Hero Wataru Plastic Model Kit PLAMAX MS-14 Genoumaru 8 cm
EAN:

4545784012512

Numer seryjny:

MAFC01251
Dostępność towaru
366,60 zł
The fourth plastic model in the Metal Jacket series is of GENOUMARU!

From the OVA \"Shin Mashin Hero Wataru\" comes a PLAMAX plastic model of Metal Jacket GENOUMARU! The model features pearl and metallic runners. Enjoy GENOUMARU\'s impressive, heroic design with its dragon wings extending from the magic armor on its shoulders. Its metal jacket armor is removable and the plastic model can be displayed as GENOUMARU.

The Metal Jacket version will be able to be combined with the previously released Metal Jacket RYUOUMARU, Metal Jacket JYAKOMARU, Metal Jacket KUOUMARU and the not yet released Metal Jacket SENOUMARU to create KOUTEIRYU.

· This model kit makes use of snap-fit connections for easy assembly. No glue required.
· Joints makes use of a poly-cap connection for articulation.
· Gripping hands and open hands are included.
· Foil stickers are used to represent the coloring of certain areas.