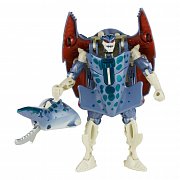 Transformers: Beast Wars Vintage Actionfigur Maximal Cybershark 13 cm
EAN:

5010994135584

Numer seryjny:

HASF4219
Dostępność towaru
150,40 zł
(Re)start a vintage Beast Wars collection with this Transformers: Vintage Beast Wars Maximal Cybershark figure! Inspired by the classic 90s toy, this Maximal Cybershark toy is designed like the original version -- including figure styling, packaging, and art from the 1997 Beast Wars releases, plus classic tech specs and accessories.

Upon finding the enemy, Cybershark launches his robotic hammerhead to knock \'em out cold, then finishes the job in robot mode by filleting his prey with his switchblade tail!

Maximal Cybershark figure comes with 4 accessories and converts from hammerhead shark to robot mode in 10 steps.