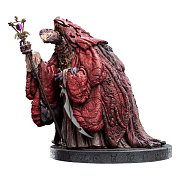 The Dark Crystal: Age of Resistance Statue 1/6 SkekSil the Chamberlain 30 cm
EAN:

9420024733073

Numer seryjny:

WETA620103307
Dostępność towaru
Chwilowo niedostępny
2 683,70 zł
As huge fans of Jim Henson\'s The Dark Crystal (1982), Weta Workshop is excited to dive into the world of Thra and create premium collectibles for this iconic film. The Skeksis have remained separated from their other halves, the urRu, for too long; only by repairing the Crystal of Truth can balance be restored to the world of Thra. It falls to the Gelflings Jen and Kira, the last of their kind, to fulfil the ancient prophecy. Together they must overcome the dangers and deceit laid out before them by the evil Skeksis. \"When single shines the triple sun, what was sundered and undone shall be whole, the two made one by Gelfling hand or else by none.\"

While all Skeksis were deceitful, dangerous creatures by nature, skekSil had honed his skills of manipulation to an artform. \"This is what I do. Plant stories in ground, watch grow into truth.\"

Features:

- 1:6 scale;
- Limited Edition of 500;
- Pays tribute to the master of schemes and right hand of the Emperor;
- Rich & intricate costume with multiple sculpted fabrics;
- Includes skekSil\'s staff depicting the Skeksis symbol of aggression atop the Three Suns of Thra, proof of Skeksis domination over all;
- Meticulously sculpted both physically and digitally by Weta Workshop artists;
- High-quality polystone.

Dimensions: 23 x 24 x 30 cm

Please note: Due to the small edition size and the great demand for this item, allocations are possible.