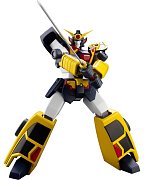 The Brave of Gold Goldran Plastic Model Kit Dran & Great Parts 12 cm
EAN:

4934054023844

Numer seryjny:

KTOKP554
Dostępność towaru
Chwilowo niedostępny
512,30 zł
The sixth entry in the Kotobukiya Brave series is a set of parts for recreating Dran and Great Goldran from The Brave of Gold Goldran!

The model for Dran perfectly recreates the proportions from the original design and anime with strict attention to detail. With an inner articulated frame that extends through each part of the model\'s body and a finely detailed sculpt of each part, the perfect balance of aesthetic and articulation was achieved for this character!

The elbow and thigh joints use a sliding feature that allows the parts to move without disrupting the model\'s proportions.

The kit includes three pre-painted face parts, Dran\'s sword, and a variety of hand parts to recreate memorable scenes from the series.

The Great Parts can be combined with the separately sold SKY GOLDRAN to build Great Goldran, providing even more ways to enjoy and display the models!

Extra care was also given when sculpting the new Great Goldran face part to make sure it fully resembles the art from the series.