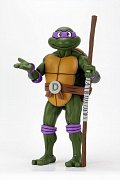 Teenage Mutant Ninja Turtles Action Figure 1/4 Giant-Size Donatello 38 cm
EAN:

634482541456

Numer seryjny:

NECA54145
Dostępność towaru
Chwilowo niedostępny
987,00 zł
Cowabunga, dudes! NECA is proud to announce the second 1/4 scale figure from the classic 1987 Teenage Mutant Ninja Turtles cartoon!

Giant Size Donatello stands approx. 38 cm tall with nearly 30 points of articulation and comes with four interchangeable top and bottom face plates to portray a variety of expressions.

These face plates are interchangeable across all four Turtles in the Giant Size line! Collect them all and create even more expressions for each Turtle!

Rounding out his accessories are bo staff, extra hands, slices of pizza, and a Turtle Communicator that opens and closes, and more! And that\'s a fact, jack!