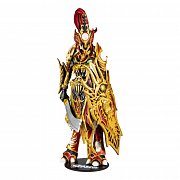 Spawn Action Figure Mandarin Spawn (Deluxe) McFarlane Designer Edition 18 cm
EAN:

787926900477

Numer seryjny:

MCF90047
Dostępność towaru
Chwilowo niedostępny
98,70 zł
The Scarlet Edge was a brutal and peerless Warrior from an ancient feudal society. He was master of combat in all forms, until his savage death in a war against an Army of the Undead. Enraged at his defeat, he returns to Earth to gain his revenge as Mandarin Spawn. Where he seeks to do battle ..and test his skills against the greatest Warriors this world can offer...

Features:

- Incredibly detailed 7\" scale figures based off the Todd McFarlane\'s Spawn Comic Series.
- Designed with Ultra Articulation with up to 22 moving parts.
- Newly sculpted features such as head armor and accessories.
- Comes with two swords, a lance, a double edged sword, a shield.
- Also includes a Mandarin Spawn Mini Poster, and a base.
- Featured in Spawn themed window boxed packaging
- Collect all McFarlane Toys Spawn Figures

Specifics:

Pre-Painted Articulated Figure
Licence: Spawn
Material: Plastic
Dimensions: 7\"