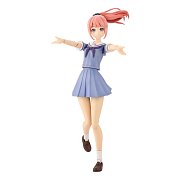 Sousai Shojo Teien Plastic Model Kit 1/10 Madoka Yuki Touou High School Summer Clothes Dreaming Style Miky Marine 15 cm
EAN:

4934054039760

Numer seryjny:

KTOJK022
Dostępność towaru
385,40 zł
This is a variation kit of Madoka Yuki \"TOUOU HIGH SCHOOL SUMMER CLOTHES\" that features a white and light blue color scheme with a softer, more playful image.

By matching the color of the top and the skirt, users can give the model a more uniform and refined look. The coral pink hair also provides a nice pop of color!

Some details such as the lines on the collar and hems of the sailor uniform are pre-painted. Just assembling the model kit will result in a product close to the character model for users to enjoy!

Please note: For this item, demand is expected to be higher than the available quantity, which may result in allocations or cancellations of quantities ordered.