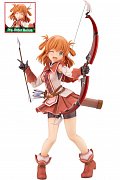 Princess Connect! RE:Dive Statue 1/7 Rino Bonus Edition 24 cm
Dostępność towaru
Chwilowo niedostępny
1 381,80 zł
Labyrinth member Rino from Princess Connect! RE:Dive is being made into a scale figure!

Her wink and bright smile fully depict her distinct personality.
Her toned legs and glimpses of her arms are beautifully portrayed.
Rino\'s beloved bow and outfit are also faithfully recreated down to the finest detail.

Display Rino together with the upcoming, separately sold Shizuru to recreate the world of Princess Connect! RE:Dive!

The Bonus Edition comes with 2 heads.