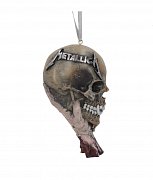 Metallica Hanging Tree Ornaments Sad But True Case (6)
EAN:

801269143978

Numer seryjny:

NEMN-B5601T1
Dostępność towaru
Chwilowo niedostępny
225,60 zł
Officially Licensed Metallica Sad But True Festive Hanging Decorative Ornament

Show your love for Thrash Metal legends, Metallica, with this exquisitely designed skull hanging decoration, exclusively through Nemesis Now! The inspiration for this piece comes from the Sad but True artwork that was drawn up by their regular designer Pushead. This fanged skull is held up by a human hand, which seems to shred into pieces. At the side of the skull, the Metallica logo sits proudly while a small loop and ribbon emerge from the top, perfect for hanging. Cast in the finest resin before being expertly hand-painted, this piece is a perfect way to pay homage to one of the most influential heavy metal bands of all time!

Size: 10,8 cm

This case contains 6 pieces.