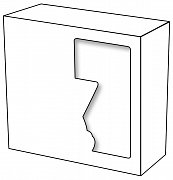 Marvel HeroClix: Avengers Fantastic Four Empyre Miniatures Game
EAN:

634482847985

Numer seryjny:

WIZ84798
Dostępność towaru
Chwilowo niedostępny
267,90 zł
Based on the earth-shattering Empyre event, this HeroClix miniatures game contains the Avengers, Fantastic Four, X-Men, and more!

Play up to 8 campaign scenarios for 2 players where results matter from session to session or sit down for a head to head single match of raw power! Each of the 10 beautiful ready to play figures comes with two different ways to play for hundreds of different combinations. Excellent point of entry for the first time miniatures player! Map components are thick double sided tiles and the box includes everything you need to play!

This miniatures game contains everything 2 people need to play HeroClix (contents subject to change):

- A rich multi-session campaign for 2 players that pivots and turns based on the results of the last session

- 10 Premium Quality Pre-Painted Miniatures each with TWO ways to play for beginner or advanced play

- 20 Character Cards

- 18 Object, Terrain, and Bystander tokens

- 6 Double-Sided Thick Map Tiles. No folds!

- 2 Custom Avengers/Fantastic Four six-sided dice

- 2 Full color Powers and Abilities Cards (2021 edition)

- 1 Full-Color HeroClix Core Rulebook (2021 edition)

This boxed-set is a great way for 2 players to learn HeroClix! Existing players will definitely want to pick up this product since it includes tournament-worthy figures and interesting scenario gameplay!