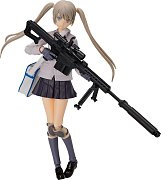 Little Armory Figma Action Figure Teruyasu Maria 13 cm
EAN:

4543736307570

Numer seryjny:

TMTC30757
Dostępność towaru
Chwilowo niedostępny
347,80 zł
The anti-materiel rifle specialist dressed in school uniform is back for a rerelease.

From TOMYTEC\'s \'Little Armory\' 1/12th scale weapon model series comes a figma of one of the series characters - a student of Reiyou High School\'s sniping classes, Maria Teruyasu!

· The smooth yet posable figma joints allow you to act out a variety of different scenes.
· A flexible plastic is used in specific areas, allowing proportions to be kept without compromising posability.
· She makes use of drawer joints in her shoulders allowing her to easily wield the \'Little Armory\' weapons.
· A plastic model runner kit for a M82A1 semi-automatic anti-materiel rifle is included. The model is limited to the figma release and includes a short barrel for short-range combat, a new model muzzle brake and large sound suppressor as optional parts to attach to the weapon.
· She comes with both a standard expression and an aiming expression for combat scenes.
· An alternate head part and base are both included which allow you to pose her prone.
· An alternate hair part with shooting glasses as well as a sports bag are also included as other optional parts.
· The background sheet of the product features a papercraft kit to create a vaulting box.
· The package includes an original illustration by illustrator Haruaki Fuyuno.
· An articulated figma stand is included, which allows various poses to be taken.

- Who is the Little Armory\'s Maria Teruyasu? -
Maria Teruyasu is one of the characters seen on the Little Armory packaging, illustrated by Haruaki Fuyuno. She is a student that specializes in sniping at Reiyou Metropolitan High School, and works primarily with anti-materiel rifles.