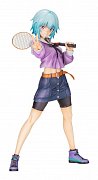 Frame Arms Girl PVC Statue Hresvelgr Date DE Session 24 cm
EAN:

190526018105

Numer seryjny:

KTOPP824
Dostępność towaru
Chwilowo niedostępny
612,04 zł
From the Frame Arms Girl animated series, the FA Girl gang\'s energetic girl joins the -SESSION!!- series with an all new lovey-dovey date theme added to this figure!

Hresvelgr was voted the top character to be made into a figure by fans! Now, she is finally made into a figure with the theme of \"playing badminton against Hresvelgr at the park\" in mind.

This rendition of Hresvlgr is based on Hresvelgr accepting your challenge to compete in this sport with utmost confidence. You can see her stomach peeking out from underneath her sweater, and her healthily built legs in this detailed sculpt.

Be sure to get your hands on this figure, and fulfill your date fantasy with the fun and energetic Hresvelgr!

This beautiful PVC Statue stands 24 cm tall and comes with base in a window box packaging.