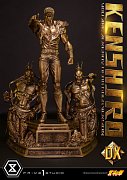 Fist of the North Star Statue 1/4 Kenshiro You Are Already Dead Deluxe Gold Version 71 cm
EAN:

4582535945194

Numer seryjny:

P1SPMFOTNS-02DXGL
Dostępność towaru
Chwilowo niedostępny
9 324,80 zł
Prime 1 Studio is proud to present 1/4 scale PMFOTNS-02DXGL: Kenshiro You Are Already Dead Deluxe Gold Version from Fist of the North Star (Hokuto no Ken) manga series written by Buronson and illustrated by Tetsuo Hara.
It\'s the second Kenshiro Statue from Prime 1 Studio and this time we recreated Kenshiro\'s famous \"You are already dead\" pose in gold variant.
His catchphrase is delivered to many of his opponent he has killed before they even know it.

The Deluxe Edition comes with a specially designed Nio Guardians Theme base.

This is a must-have for all Fist of the North Star fans!

Size: approximately 71 x 52,5 x 45,4 cm

Edition Size: 100

Please note: Due to the size of this item, additional shipping costs may apply. Apart from your location, the actual package size and weight is needed to determine those costs. Both are unknown at this point and may not be available until the product arrives in our warehouse.

Please note: For this item, demand is expected to be higher than the available quantity, which may result in allocations or cancellations of quantities ordered.