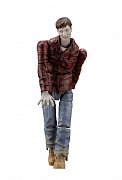 End of Heroes Plastic Model Kit 1/24 Zombinoid Agony 8 cm
EAN:

4934054017218

Numer seryjny:

KTOKP524
Dostępność towaru
192,70 zł
A new palm-sized and fully articulated plastic model series, END OF HEROES is here!

What is END OF HEROES?
In the future towards the latter half of the 21st century...
A world where civilization has fallen, law and order are no more, completely engulfed by flames and brimstone...

The dead rise from their graves and chaos reigns in this apocalyptic wasteland. The good & just have turned evil & sadistic, brave hunters to bloodthirsty wolves, and freakish creatures only heard in fairy tales now roam the land...

This new plastic model kit series, END OF HEROES, comes in a 1/24 scale!
\"Outsiders\" that match perfectly with this devastated world come to life as plastic models small enough to fit in the palm of your hand. Create a scene with these small-scaled and fully articulated characters right on the top of your desk!

The choice of characters for the lineup is made based on themes like horror, action, and sci-fi movies, featuring critical motifs such as zombies and bandits. Collect upcoming characters and create a movie studio right before your eyes!
That\'s right, YOU are the director!

¦ Investigation Report 1: ZOMBINOID AGONY
As I surveyed the dreary grey scene around me, I spotted a figure lying prone. The pensive look in its dry eyes looked as if even in death, it was still burdened with the weight of mankind. Reflecting on the cruelty of the endless cycle of suffering that is our fate, I turned to leave with a feeling resembling pity or grief in my heart.

The moment I looked away, the figure leaped up and bit me with tremendous force. In stark contrast to mere moments ago, its eyes were gleaming, fueled by a burning desire for flesh and profound hatred for the living. I came to the realization that a zombie can only be a zombie and nothing else.

*The color of the optional parts will match the shirt and pants in the final product.
*The pool of blood effect part will be clear red in the final product.