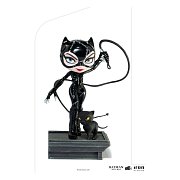 DC Comics Mini Co. Deluxe PVC Figure Catwoman (Batman Returns) 17 cm
EAN:

609963128242

Numer seryjny:

IS12824
Dostępność towaru
Chwilowo niedostępny
314,90 zł
Officially licensed mini figure from Iron Studios \"Mini Co.\"-line. The PVC figure measures approx. 17 x 12 x 9 cm tall and comes with base in a window box packaging.

On the roof of some building in Gotham City, an elegant figure, wearing a patchwork-stitched black vinyl uniform, reflects the moonlight. Accompanied by her little feline mascot (pet), she raises her whip showing her silver claws, thus displaying her strength and skill, ready to conquer the city and the heart of the Dark Knight that protects her.

Iron Studios brings to its line of stylized statues, MiniCo, the beloved villain and anti-heroine Catwoman. The statue is inspired by the character from the movie \"Batman Returns\" (1992), directed by Tim Burton, one of his most popular and unforgettable adaptations. The feline villain, played by the beautiful Michelle Pfeiffer, is now featured in the amazing \"Catwoman - Batman Returns - MiniCo - Iron Studios\" statue.

Along with the MiniCo statues inspired by Michael Keaton\'s Batman and Jack Nicholson\'s Joker, derived from the previous film, 1989\'s Batman, also directed by Burton, the beautiful and fierce blue-eyed cat arrives to unite and, together, form a trio of protagonists. The gothic universe created in theaters through the eyes of this acclaimed director will gain new adventures adapted in the comics, and it seems, will also be revisited on the big screen in the near future, in sprinter Flash\'s long-awaited solo film, which promises to explore the DC multiverse.