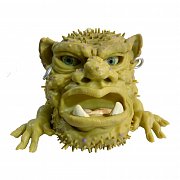 Boglins Hand Puppet King Topor
EAN:

850027360102

Numer seryjny:

TRIAT10012
Dostępność towaru
Chwilowo niedostępny
197,40 zł
Boglins® are back in their original size and cages, but they have evolved! Boglins® were extremely popular in the U.S. between 1987 - 1989, after which these creepy and cute puppets traveled around Europe, Canada, Japan and Australia for another 7 years but have been hiding ever since. Now the Boglins® are back with newly evolved styles and ready to burst out of their cages!

Topor is one of the ugliest, meanest and most fearsome of all the Boglins. He lives in the Lowlands and has very few associates. Very few Boglins will even ENTER the Lowlands. And those that do are usually there after getting lost in the Forest of Meander and stumbling upon them by accident.
The bellows of Topor, a sound made by inflating his throat wattles with air, make many a Boglin run in fear! This usually causes them to become lost again, winding up in the land of Bog O\' Bones and Blobkin (Shudder).
Terrified to death, the frightened Boglins eventually return to their homeland a shrunken visage of their former selves. They are even unable to speak.
This is why no Boglin ever ventures into the Lowlands on purpose.


This officially licensed Boglins hand puppet is approx. 17 cm tall and made from TPR.